Discussion Starter
·
#1
·
Looks like the 4xe is already influencing the Jeep lineup. According to Australian publication
Go Auto
, Jeep global president Christian Meunier told them that the Grand Cherokee will be getting the 4xe system instead of a diesel engine. He also hinted that there will be an electrified Gladiator which should mean that there will be a 4xe Gladiator as well.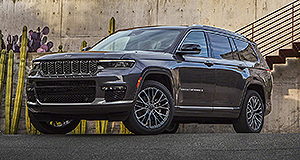 Jeep global head confident PHEV can supplant diesel in brand line-up
JEEP looks ready to join the growing number of brands stepping away from diesel powertrains in favour of electrification as it continues to develop its 4xe plug-in hybrid (PHEV) technology.
Speaking to Australian media this week, Jeep global president Christian Meunier revealed the next-generation Grand Cherokee due to land here at the end of the year would not be offered with a diesel engine, but with a 4xe system instead, describing the PHEV tech as limitless.
"There won't be a diesel Grand Cherokee and I'm not going to elaborate about diesel and the future of diesel and things like that because I think you know…," he said.
"On the Grand Cherokee the decision was made to go petrol and electrification, so we're going both ICE and electrified powertrains because that's where the future is going and with electrification on product like Wrangler and Grand Cherokee, we're able to deliver more capability off road, more fun to drive, strong towing capacity, strong torque and eco-friendly technology.
"We believe that's the perfect world for Jeep; to also be able to drive in e-drive, on electric only for commuting is a hell of an experience and we strongly believe in it.
While not completely ruling diesel out of its international line-up just yet, Mr Meunier continued to praise the credentials and capabilities of the 4xe system, even going so far as to say that it was "as competent as a V8".
In his eyes, Australia is still one of the three biggest diesel markets alongside Europe and North America and yet despite this, the brand has just dropped the fuel-type from its Wrangler line-up, leaving the 3.6-litre petrol V6 as the only engine option.
Coincidentally, that move came just two days before FCA debuted and detailed the production-spec Wrangler 4xe.
Once the current-generation Grand Cherokee departs, there will be just one diesel-powered Jeep offered in Australia, that being the top-spec Compass Trailhawk, however comments made by Mr Meunier could potentially throw question marks over its future as well.
According to Mr Meunier, the Grand Cherokee 4xe should land Down Under at either the very end of this year or early in 2022 which could make it the first 4xe-powered vehicle to be offered locally.
Ever since Jeep showcased the 4xe system at the 2020 edition of Consumer Electronics Show, FCA Australia has maintained that it is "monitoring the take up of electrification in Australia" and would be ready to launch its "PHEV strategy as soon as consumer appetite, regulations and infrastructure suggests the time is right".
Given the Compass and similarly sized Renegade were the first 4xe models to be launched internationally, the arrival of the Grand Cherokee 4xe could also signal the introduction of the electrified Compass and the end of diesel for the brand in Australia.
Mr Meunier also confirmed point blank that there was "for sure" an electrified Gladiator in the works – hardly surprising given it shares the vast majority of its platform and mechanicals with the Wrangler – however it remains to be seen if it will make it Down Under.
He also said he expects the popularity of petrol-powered large SUVs like the Grand Cherokee to grow as diesel mills become increasingly neutered by ever-tightening emissions regulations.
"I'm not saying we couldn't sell a few more units with diesel, but it's still 40 per cent of the segment is petrol," he said.
"Diesel engines are becoming more and more challenging because of emissions – I think the electrification is going to really help us bring something new to the customer.
"It's going to be a way also for Jeep to differentiate and to show that we're really advanced on technology … people are going to love it, no doubt."
Jeep managed to shift 5748 new vehicles in 2020 marking a 4.1 per cent increase on the 5519 units sold in 2019, with the Grand Cherokee being the bulk seller on both occasions.