Did anyone see the new Tacoma that was revealed today? Toyota is really trying to go after off-roaders with the Trailhunter and TRD Pro models.
KONA, Hawaii (May 18, 2023) – After nearly two decades as the champion of the mid-size pickup truck market, the Toyota Tacoma is ready for its next chapter. This go-anywhere truck is entirely new for 2024 with epic adventures in mind, improving upon every winning aspect that has made it a...
pressroom.toyota.com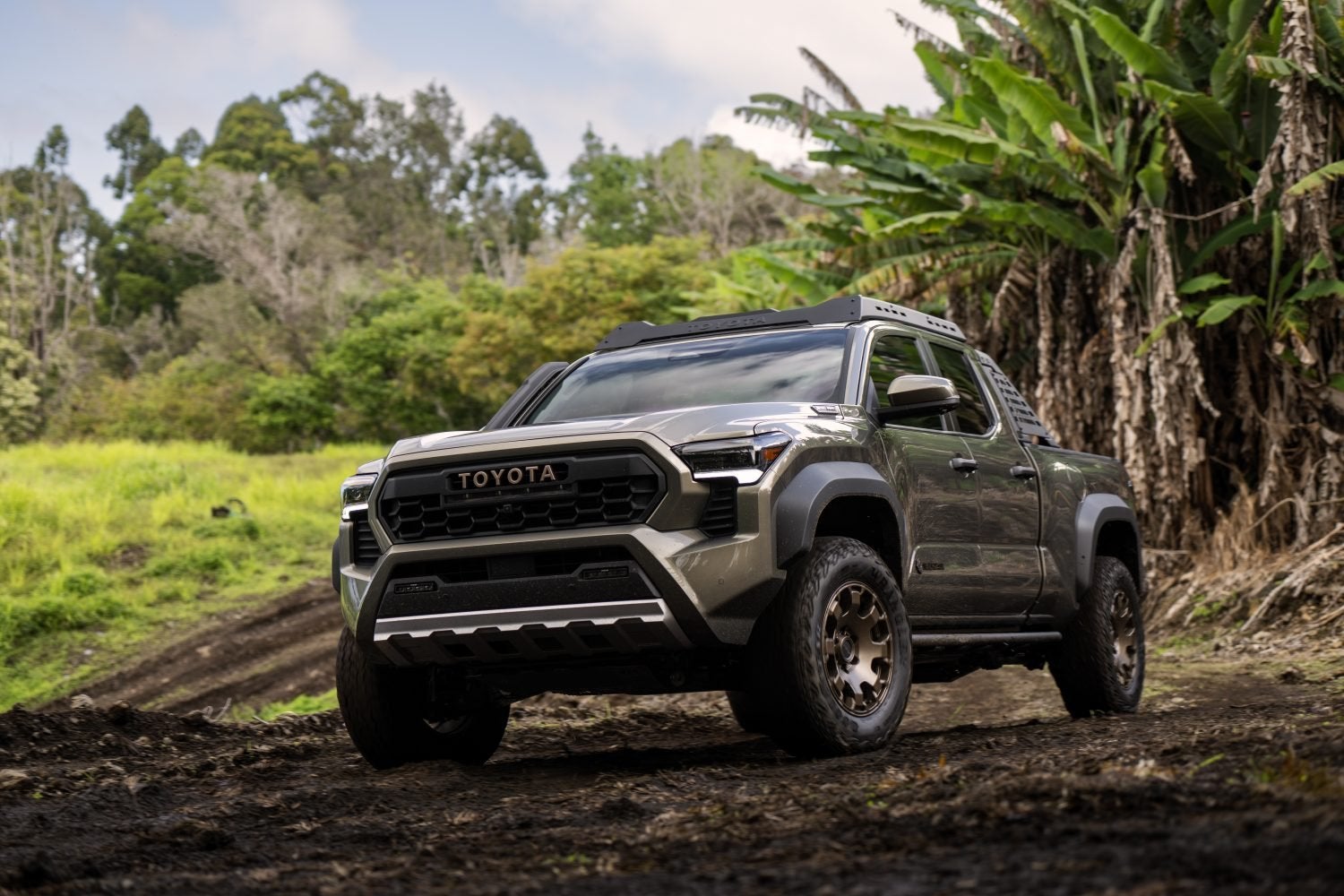 Toyota has just released details of the 2024 Tacoma - a few hours earlier than expected. After weeks of #TacoTuesday teasers, we can now parse the official specs, trims, and photos. There are a number of surprises here so take a read of the press release from Toyota below. 2024 Toyota Tacoma...

www.4thgentacoma.com
All-New Trailhunter: Go Far
Tacoma introduces the all-new Trailhunter grade to the lineup of rugged Toyota Trucks. Toyota has long been a top choice for overlanders due to its legendary quality, durability, and reliability, and now enthusiasts can get a factory-developed overlander straight from Toyota. To help bring Trailhunter to life, Toyota worked with renowned Australian-based ARB to co-develop Old Man Emu (OME) position sensitive 2.5-inch forged monotube shocks with rear external piggyback style remote reservoirs, a steel rear bumper, robust rear recovery points, and a bed utility bar with removeable MOLLE panels. ARB engineering even worked on-site at Toyota alongside the project development team to co-develop Trailhunter. With either 5- or 6-foot bed Double Cab configurations available, serious overlanders can take their Trailhunters to the next level with available light- or heavy-duty versions of a full ARB bed rack to support additional gear like rooftop tents, canopies, or a camp shower.
The OME shocks along with the 33-inch Goodyear Territory R/T tires boost up Trailhunter an additional two inches in the front and one and a half inches in the rear. A high-clearance trail exhaust tip is also standard along with a low-profile high-mount Trailhunter Air Intake that is routed up the passenger-side A pillar to source cleaner air to the i-FORCE MAX. Trailhunter protection includes rock rails and a multitude of hot-stamped high strength steel skid plates for serious off-the-grid-adventure capabilities straight from the factory.
Trailhunter is also equipped with a bronze-colored "TOYOTA" heritage-inspired grille with an integrated 20-inch LED light bar that's complemented by white/yellow color switching RIGID LED fog lamps. Lighting in the Trailhunter's bed is triangulated to help avoid dark spots, and integrated bed side scene lights help illuminate the area surrounding the bed for setting up camp at night. A powerful 2400W AC inverter provides juice to two locations in the cabin and the rear deck where both 12V and USBs can also be found to power other devices such as an ARB Fridge Freezer. Trailhunter also comes pre-wired for accessories with three auxiliary toggle switches on the dashboard.
In addition to Toyota Genuine parts and accessories, additional accessories are available through the recently announced Associated Accessory Products program (AAP) for customers to customize their Tacoma Trailhunter exactly the way they want straight from Toyota's participating dealerships. The AAP ecosystem will continue to evolve over time and currently includes over 100 accessories such as off-road recovery gear, rack attachment brackets for storage gear, outdoor sporting equipment carriers, and more. These products can also be conveniently rolled into customer's monthly payments, and they aren't exclusive to Trailhunter, either, making accessorizing Tacoma through Toyota easier than ever.
TRD Pro: Go Fast
While Trailhunter is specifically developed for off-the-grid overlanding adventures, Tacoma TRD Pro elevates its proven go-fast, desert running attributes for its newest generation. Red aluminum front TRD upper control arms optimize front geometry and reduce unsprung weight, while Fox internal bypass 2.5-inch manual modal Quick Switch 3 (QS3) shocks can be adjusted to three different settings via dials on the shock bodies to tune compression damping. Built around the new multilink rear suspension, FOX Internal Floating Piston (IFP) bump stops can help knock the edge off some of the gnarliest terrain.
For a more menacing stance than ever before, TRD Pro sits two inches higher in the front and an inch and a half in the rear and is three inches wider than a Tacoma SR5. Black flow-formed TRD wheels are wrapped in 33-inch Goodyear Territory R/T tires. TRD Pro's standard i-FORCE MAX engine breathes more efficiently courtesy of a TRD performance air intake and TRD cat-back dual tipped exhaust. A new integrated LED light bar works in conjunction with the LED headlights to optimize beam pattern aiming for balanced light output with significant range, and a set of RIGID white LED fog lamps increase visibility during inclement weather. TRD Pro also gets a high-clearance ARB rear metal bumper with red recovery hooks and an aluminum TRD front skid plate.
Debuting exclusively on the new TRD Pro is a segment-first IsoDynamic Performance Seat that helps provide a smooth, confidence-inspiring ride for those in the driver and front passenger seats. The goal of this patent-pending feature is to stabilize the driver's field of vision to improve focus, comfort, and reduce fatigue while on rugged trails. The IsoDynamic Performance Seat uses an air-over-oil shock absorber system allowing for vertical and lateral seat movement simultaneously to dampen body movement and stabilize the head and neck to keep alignment with the spine. This dampening effect is tunable based on body mass and occupant preference and can be bypassed, if desired, via levers on the seatbacks.